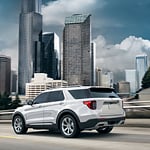 The 2020 Ford Explorer is cool, calm and collected. This full-size SUV has been a top choice for SUV lovers, and that speaks volumes. Consumers can expect cutting-edge technologies as well as interior luxury. The SUV's powertrain produces hundreds of ponies, and there are many different trims that are available. This includes the Platinum, Limited, XLT and ST.
The 2020 Ford Explorer has an exterior design that's iconic in appearance. Thanks to coming in numerous trim levels, this SUV will come equipped with various grilles that are intricately styled. The vehicle's fog lights appear to be carved into the frame with precision. Of course, Ford always use some of the most stylish LEDs for the front and rear. On top of that, the Explorer's name is plastered right on the edge of the hood for prominence.
What more can you say about this vehicle? We welcome all interested enthusiasts to swing by for a test drive.