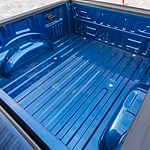 If you're looking for a popular pick-up truck, a Ford F-150 is a practical choice, and it's available at Gene Langley Ford Inc. An F-150 is worth buying because it has many appealing performance features. This informative F-150 blog post highlights two of them.
EcoBoost

EcoBoost is an engine feature that gives the F-150 an extra surge of power. Without EcoBoost, the F-150 stills produces great horsepower. However, EcoBoost is a solid addition as it gives the F-150 a higher 375-horsepower rating and the ability to generate 470-lb of torque.
A 10-Speed Transmission

?While the EcoBoost engine provides power, a nimble 10-speed transmission manages acceleration. When you press the accelerator, you'll notice how this transmission improves basic acceleration functions at low to medium speeds. This is possible because the F-150's transmission has an enhanced gear layout, several overdrive gears, and drag-reduction capabilities. The F-150 has multiple drive modes, so you can take advantage of these performance features in multiple environments. There is a Sport mode, Snow mode, Tow mode, and more.