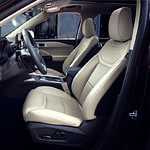 Our Gene Langley Ford Inc team loves the Ford Explorer for its spacious, well-appointed cabin, its power, efficiency and safety. However, the next-gen Ford Explorer has a new quality to its credit: high IQ. Tech features, that is. Its tech features are sufficient to delight even the most discerning geeks. Take a look at two features.
Voice-Activated Navigation
Like all of the Ford fleet, the Ford Explorer benefits from its dynamic infotainment platform, Sync 3. The latest iteration includes Voice-Activated Navigation. With your hands on the wheel and your eyes on the road, you can use your voice to make phone calls, play music or consult up-to-date, turn-by-turn directions.
Take Amazon Alexa on the Road
Ford + Alexa enables Amazon's famous digital assistant to accompany you and help you while you're on the road. From behind the Ford Explorer's steering wheel, you can shop Amazon Prime, get up-to-the-moment traffic info or remotely control your connected smart home devices. Plus, all of Alexa's usual skills (thousands) are at your disposal as you zip between errands in Humboldt.