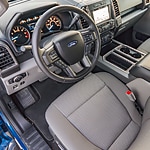 The new Ford F-150 has been updated with new features and technologies. Available with seven trim levels and a multitude of configurations, the new F-150 is highly-configurable and can be equipped with the features that drivers need. Come find the Ford F-150 that suits you.

Selectable Zone Lighting

The new Ford F-150 is available with an incredible lighting feature that allows drivers to illuminate entire areas using their trucks. The selectable zone lighting technology provides 360-degrees of light around the F-150 and even illuminates the truck bed. The lighting features can all be controlled trough Ford's FordPass smartphone app, making it easy and convenient for drivers to use.

Ford SYNC 4

The Ford F-150 is available with Ford's new SYNC 4 infotainment system software. SYNC 4 provides cloud-based services and makes driving the new F-150 fun and enjoyable. SYNC 4 allows drivers to update their infotainment system wirelessly through over-the-air updates.